Autor del mes: Luis María Pescetti - Resources for your Spanish Classroom
Nov 12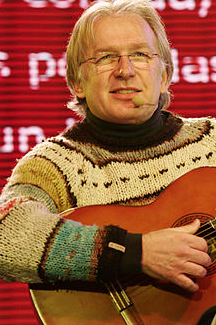 Luis María Pescetti
Nació en San Jorge, Santa Fe, Argentina. Es escritor, músico y actor con nutrida experiencia de campo en la docencia y el encuentro con niños y familias.
Estudió musicoterapia (diploma de honor), armonía, composición, piano, literatura, filosofía para niños y fue profesor de música en escuelas y en el Plan Nacional de Lectura de Argentina durante diez años. Desarrolla una intensa actividad académica sobre el humor y la comunicación con niños dirigida a pedagogos, pediatras, psicólogos y artistas; tanto en univesidades, jornadas hospitalarias, ferias de libos, como en su blog.
Creó y condujo programs de radio y televisión sobre música, literatura y humor para púplico infanftil-familiar, en México y Argentina, durante más de catorce años.
Entre los premios nacionales e internacionales que ha recibido, mencionamos los destacados de ALIJA y el Premio Fantasía (Argentina), el Premio Casa de las Américas (Cuba, 1997) y The Whtie Ravens (Alemania, 1998, 2001, 2005).
Su amplia producción de libro para niños es reconocida en América Latina y en España.
Algunas de sus obras son:
To learn more about these titles, contact your Educational Sales Consultant or

customer.service@santillanausa.com

This month on Spanish Classroom
Every year, Americans around the nation get together to celebrate Hispanic Heritage Month from September 15th through October 15th. The contributions Hispanic Americans have made to the United States are endless and inspiring, and they have had a profound and positive impact on our county.
2016

2015

2014

2013

2012

2011