Author of the month: Alberto Blanco - Resources for your Spanish Classroom
Jan 20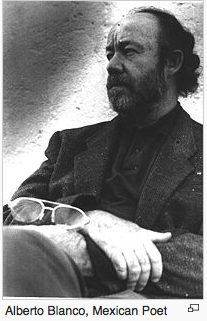 Alberto Blanco

Nació en la ciudad de México en 1951. Es poeta, ensayista y traductor, aunque antes de estudiar Filosofía, cursó estudios universitarios de Química. También es músico y ha expuesto su obra como artista visual en México y Estados Unidos. Ha publicado quince libros de poesía en México y cuatro más fuera del país, además de diez libros y cuadernos con sus traducciones de otros poetas, y diez libros de cuentos y poemas para niños, varios de los cuales han sido ilustrados por su esposa Patricia Revah. Su trabajo ha sido traducido a una docena de idiomas y es miembro del Sistema Nacional de Creadores. Ha recibido varios premios de gran importancia, entre los que figura el Diploma "Lista de Honor de IBBY", en 1996 por su libro También los insectos son perfectos. El año 2008 recibió el premio Guggenheim.
Entre algunas de sus otras se encuentran Dichos de bichos, El blues de los gatos, Rimas y números, y A, B, C.
| | | | |
| --- | --- | --- | --- |
| | | | |
| | | | |
To learn more about these titles, contact your Educational Sales Consultant or

customer.service@santillanausa.com

This month on Spanish Classroom
Every year, Americans around the nation get together to celebrate Hispanic Heritage Month from September 15th through October 15th. The contributions Hispanic Americans have made to the United States are endless and inspiring, and they have had a profound and positive impact on our county.
2016

2015

2014

2013

2012

2011