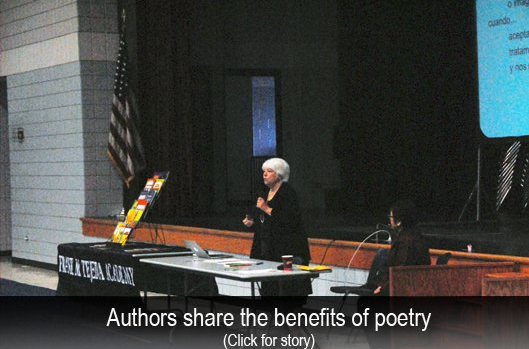 This spring, Texas teachers were motivated, engaged and excited to learn more about how to incorporate Spanish poetry into their bilingual or dual language classroom.
Alma Flor Ada and F.Isabel Campoy shared important strategies and poems that reflect the language of the Hispanic culture—all so very important for students to be exposed to in the classroom.
Our Santillana consultants, Patricia Acosta and Dr. Barbara Jones, also shared fun and engaging ways to incorporate using poetry in the classroom to help students expand their vocabulary, strengthen reading skills and develop Spanish proficiency. This is especially important because these are tested skills on the STAAR exam. Here, in Plaza Santillana we want to share with you the poetry activities and song that were featured in both these presentations. Enjoy!
Continue reading
This month on Spanish Classroom
Este mes celebramos el trabajo de los ilustradores. Las ilustraciones son muy valiosas en el desarrollo del lenguaje. El uso de ilustraciones es perfecto para desarrollar oraciones sencillas o escribir una descripción detallada dependiendo del nivel de competencia del estudiante.
Memorial Day

By Ángela Padrón Every year on the last Monday in May, Americans celebrate...
2017

2016

2015

2014

2013

2012

2011