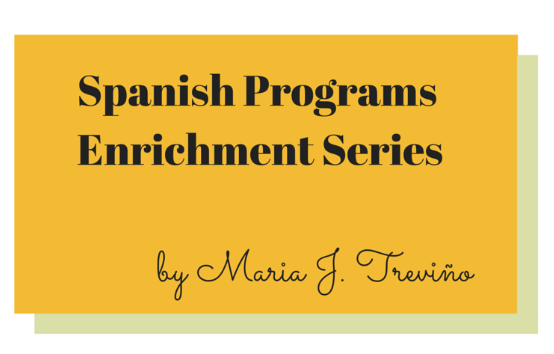 TOTAL IMMERSION PROGRAMS: Total Immersion or One Way Immersion Programs are programs in which English-speakers are taught all academic subjects in Spanish. The program begins in Kindergarten and continues up to grade 5 or grade 6 depending on the configuration of the elementary school. Besides their Spanish immersion in academics, students learn to read in Spanish first rather than in English. Since no English is spoken in the classroom, parents whose children are enrolled in Total Immersion Programs are encouraged to work with their children on their English language skills at home. Parents read books to their children in English, do various activities that develop English language skills, and of course converse in English with their children.
Continue reading
This month on Spanish Classroom
We love the Spanish language and Hispanic cultures. We love teaching and learning about them, as well as speaking, writing, listening, viewing, and reading about every corner of the Spanish-speaking world. We love the richness that is just waiting to be found IN Spanish, and THROUGH Spanish.
So this month, we are thankful for the Spanish language and to the Spanish teachers, for passing this richness along to your students.