Celebra el Día de
Martin Luther King Jr.
con la clase de la Sra. Park
by Alma Flor Ada and F. Isabel Campoy
eBook and Creative Reading Questions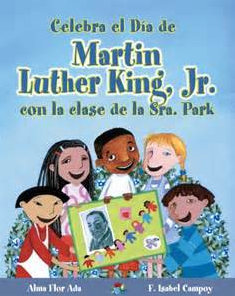 Celebra el Día de Martin Luther King Jr. con la clase de la Sra. Park pertenece a la colección Cuentos para celebrar, que busca despertar en los niños el respeto y la admiración por las creencias y tradiciones de otras culturas. Además, les ofrece la oportunidad de familiarizarse con las características y el estilo de textos tanto narrativos como expositivos, y de compararlos.
Continue reading
This month on Spanish Classroom
Every year, Americans around the nation get together to celebrate Hispanic Heritage Month from September 15th through October 15th. The contributions Hispanic Americans have made to the United States are endless and inspiring, and they have had a profound and positive impact on our county.
Los sonidos y las letras

Cuando hablamos, pronunciamos sonidos. Los sonidos sirven para distinguir palabras, como por...
2016

2015

2014

2013

2012

2011