Let's honor literature this April!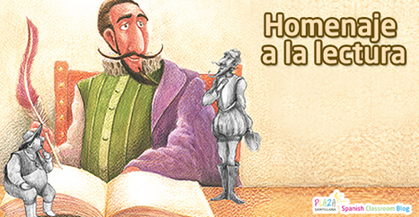 This month in Plaza Santillana, we pay homage to all the richness that literature brings to our lives and the lives of our students. During April in communities around the world, people celebrate various facets of literature and books: International Book Day, International Children's Book Day, the days we commemorate Miguel de Cervantes and William Shakespeare, and others. If literature is celebrated so much in both Spanish-speaking countries and in English-speaking ones, then we here at Plaza Santillana have DOUBLE the celebration going on! We celebrate all things Hispanic, and also value the English-language literature that so enriches our lives as well.
Continue reading
This month on Spanish Classroom
Este mes celebramos el trabajo de los ilustradores. Las ilustraciones son muy valiosas en el desarrollo del lenguaje. El uso de ilustraciones es perfecto para desarrollar oraciones sencillas o escribir una descripción detallada dependiendo del nivel de competencia del estudiante.
Memorial Day

By Ángela Padrón Every year on the last Monday in May, Americans celebrate...
2017

2016

2015

2014

2013

2012

2011