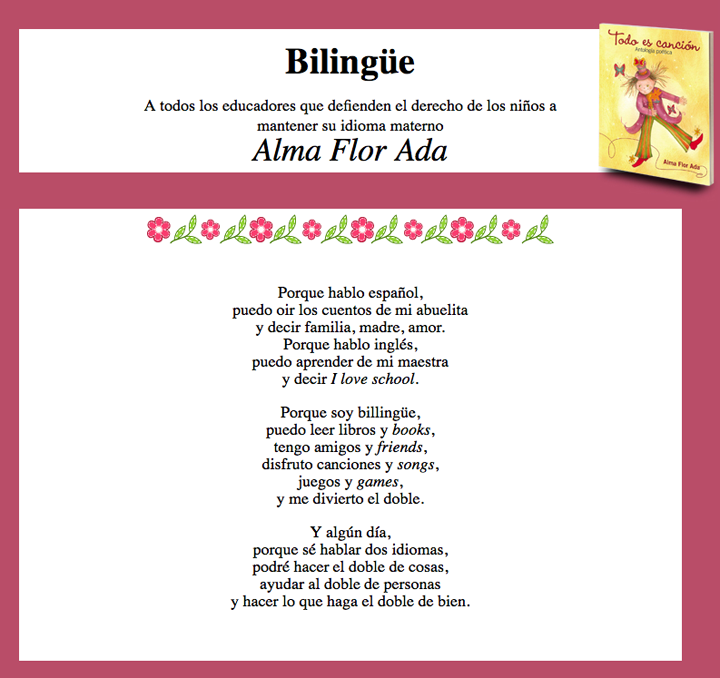 Todo es canción: Antología poética
This delightful book gathers a selection of the most notable poems written by Latina writer, teacher, and passionate advocate for bilingual and bicultural education in the US, Alma Flor Ada. This anthology is a fundamental tool for teachers who rely on imagination, play, and creativity to expand concepts and to enrich students' vocabulary. It is organized by curriculum themes. Some of the themes are the parts of the body, numbers, vowels, family, animals, the city and the countryside, food, nature, and bilingualism.
Celebremos las festividades del mes de Diciembre, deleitándonos con los poemas de la reina de la rima, la inigualable Alma Flor Ada. En su libro Todo es Canción, encontrarán una hermosa colección de poemas que pueden ser disfrutados, como dice ella, "por todas las edades." Entonces, tomemos ventaja del auditorio escolar, y dejemos que los niños reciten sus poemas favoritos.
No olviden representar los poemas de una manera viva, y divertida por medio del uso de un traje, disfraz o un objeto de utilería. En vista de que la lectura y el análisis de los poemas es una noción que se evaluará en los exámenes estatales, es recomendable instruir a los estudiantes tempranamente para obtener buenos resultados en la primavera. Volviendo al libro que acabo de mencionar, el prólogo describe muchos datos históricos y didácticos que seguramente les ayudarán a enseñar los fundamentos de la poesía a los niños. Estoy incluyendo unas tarjetas de preguntas que pueden ser utilizadas para ayudar a analizar los poemas en inglés y en español.  ¡Disfruten!
"Para que un poema sea tuyo para siempre, todo lo que necesitas es disfrutarlo y recordarlo"  -Alma Flor Ada
This activity is available in English & Spanish. Scroll down to download and print both versions.
To download this activity in English, click here.
To download this activity in Spanish, click here.
This month on Spanish Classroom
Every year, Americans around the nation get together to celebrate Hispanic Heritage Month from September 15th through October 15th. The contributions Hispanic Americans have made to the United States are endless and inspiring, and they have had a profound and positive impact on our county.
Frida Kahlo

By Angela Padrón Frida Kahlo is a famous Mexican artist whose work and life is still...
2016

2015

2014

2013

2012

2011