Consejos de la Academia Norteamericana de la Lengua Española para mejorar su español.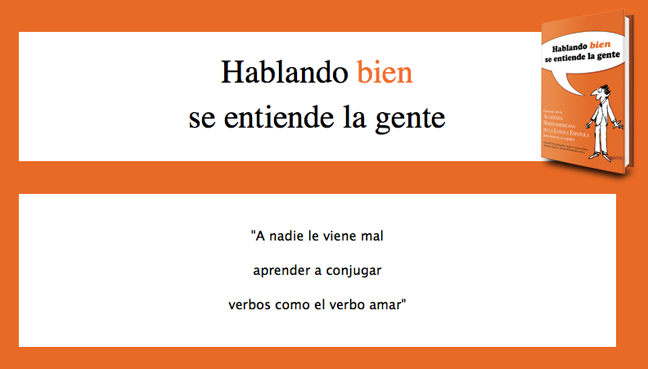 Continue reading
ACTIVIDADES DE LA ACADEMIA NORTEAMERICANA DE LA LENGUA ESPAÑOLA
http://www.anle.us/
Índice
Introducción / 2
Reuniones de trabajo / 2
Actividades públicas / 2
Comisión de admisiones y elecciones / 4
Comisión de lexicografía / 5
Comisión de traducciones técnicas y científicas / 5
Comisión del estudio sociolingüístico del español en Estados Unidos / 5
Comisión para el estudio de la norma lingüística del español de Estados Unidos / 6
Comisión ANLE-GobiernoUSA / 7
Comisión de estudios literarios y publicaciones / 8
Comisión para el estudio de la presencia hispánica en los Estados Unidos / 11
Comisión de educación / 12
Revista literaria de la ANLE / 12
Comisión Certamen Literario / 13
Comisión de información / 13
Comisión de relaciones públicas / 15
Comisión de tesorería y finanzas / 16
Comisión del cibersitio / 16
Convenios / 16
Delegaciones / 17
Participación de la ANLE en los Congresos de la ASALE / 18*
Apéndice A: Directorio de miembros numerarios
Apéndice B: Directorio de miembros correspondientes
Apéndice C: Directorio de colaboradores
Introducción
Tras el fallecimiento del anterior director, don Odón Betanzos Palacios (q.e.p.d,), Joaquín Segura fue nombrado, por unanimidad de la Junta Directiva, director interino de la ANLE y encargado de hacer  las gestiones necesarias, de acuerdo con los Estatutos, para celebrar  una reunión de los miembros de la Directiva. Le fue propuesta y aprobada por unanimidad la candidatura de Gerardo Piña-Rosales, refrendada posteriormente en una segunda votación en la que participaron todos los miembros numerarios. Parte de estas gestiones se realizaron a partir del mes de septiembre de 2007 y se completaron en los primeros meses de 2008. Tras la votación pertinente de todos los numerarios, la Junta Directiva de la ANLE quedó establecida de la siguiente manera: Gerardo Piña-Rosales (director); Jorge Ignacio Covarrubias (secretario general); Joaquín Segura (censor); Emilio Bernal Labrada (tesorero); Eugenio Chang-Rodríguez (director del Boletín); Theodore Beardsley (bibliotecario).
Continue reading
This month on Spanish Classroom
Every year, Americans around the nation get together to celebrate Hispanic Heritage Month from September 15th through October 15th. The contributions Hispanic Americans have made to the United States are endless and inspiring, and they have had a profound and positive impact on our county.
Los sonidos y las letras

Cuando hablamos, pronunciamos sonidos. Los sonidos sirven para distinguir palabras, como por...
2016

2015

2014

2013

2012

2011